Current Exhibitions and Events
September Exhibition
Opening September 20, 12 to 5 pm
Featuring Sue Baker, Sue Fisher, Amber Hall, Julian King-Salter and Evelyn Owen.
Lunch and refreshments provided.
Entry by gold coin donation.
Bring your own utensils to enter the "The Green Raffle" to a win a beautiful plant and a beautiful planet.
View the catalogue here.
Myall Creek Memorial Exhibition
Opened Saturday, June 11th, 12 to 5 pm
A Collection of Inspirational Works by Kerrie Walker
Kerrie Walker is an emerging Inverell local artist. She explores the spirituality of everything around her through her art. Even though only new to exhibiting her artwork, Kerry is already starting to develop a following and her works have been added to several collections around the local regions.
Dreams of a Wayfaring Artisan by Anthony Harwood.
Anthony Harwood is a wandering artist who spent several years prior to Covid 19 living in Germany where he has several successful exhibitions over the years. Anthony works with both traditional and digital media and likes to give his own spin on his indigenous heritage through his art. He attended the University of NSW studying architecture and multimedia. Anthony's exhibition is sponsored by Bunnings, Crowies Paints, Simply Print Anything Inverell and Bunnings Tamworth.
Welcome to Country and Smoking Ceremony (weather permitting) will be performed by Anthony Harwood. Speeches will commence at 1 pm to allow visitors who wish, to attend the Myall Creek Concert at Bingara Roxy Theatre.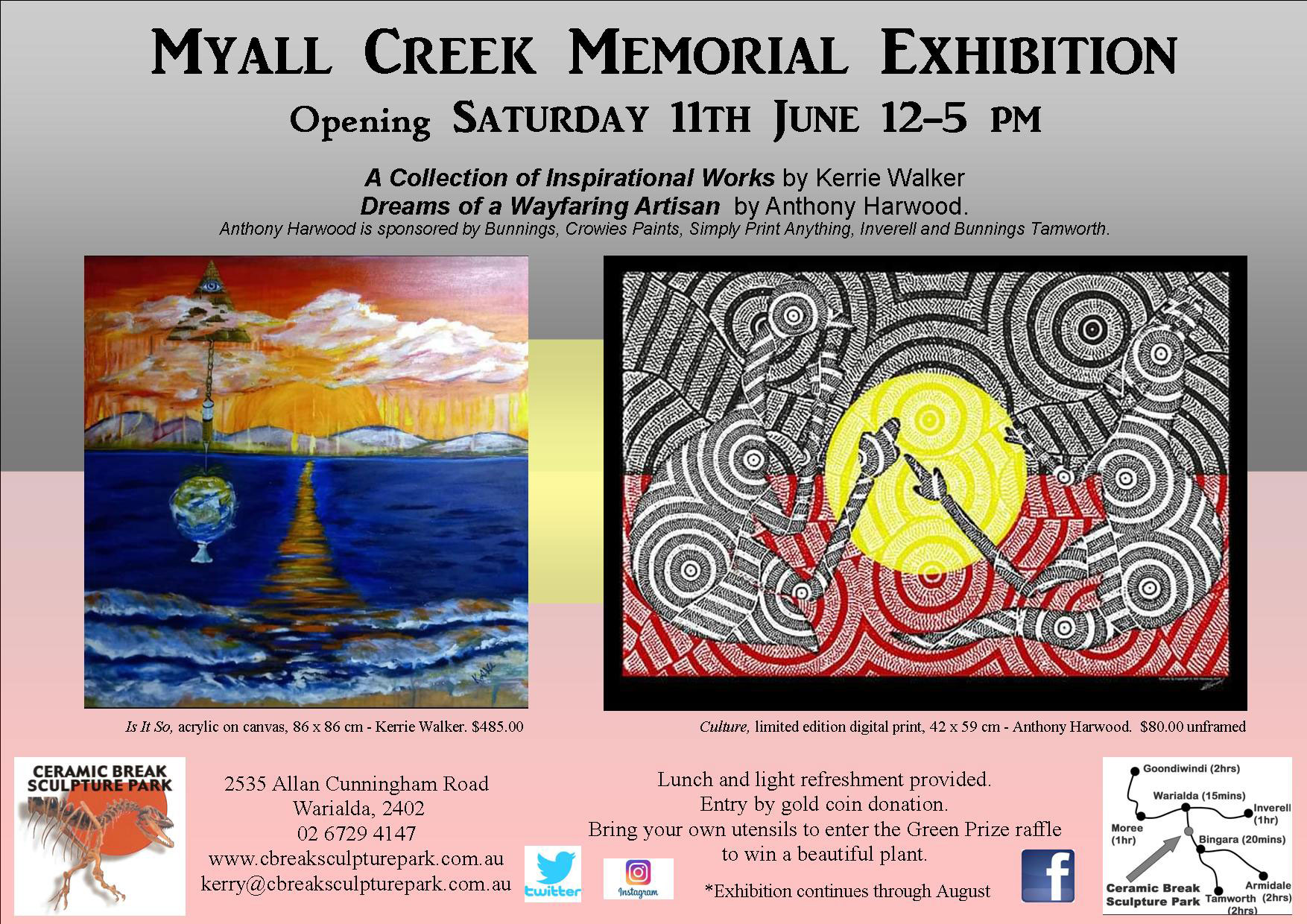 View the catalogue here, it will continue to change as the we get closer to the show.
For more information call Ceramic Break Sculpture Park on 6729 4147 or email kerry@cbreaksculpturepark.com.au
-----------------
Ceramic Break Sculpture Park is currently housing a diverse arrangement of artists from across the state.
Some of these artists are extremely successful in their own right having shown and sold work in many Galleries over the years.