Current Exhibitions and Events
Weaving with Waabii
Bookings are now open for our second Weaving with Waabii workshop at Ceramic Break Sculpture Park on Saturday September 16th from 10-2 pm.


Price is $105.00 per person and includes weaving starter kit, workshop, entry to Ceramic Break and use of all the facilities for the day, tea, coffee and home made damper for morning tea. Participants will need to bring their own lunch.


Please email kerry@cbreaksculpturepark.com.au to confirm your booking and for payment details. Bookings must be paid for in advance of the workshop and numbers are strictly limited.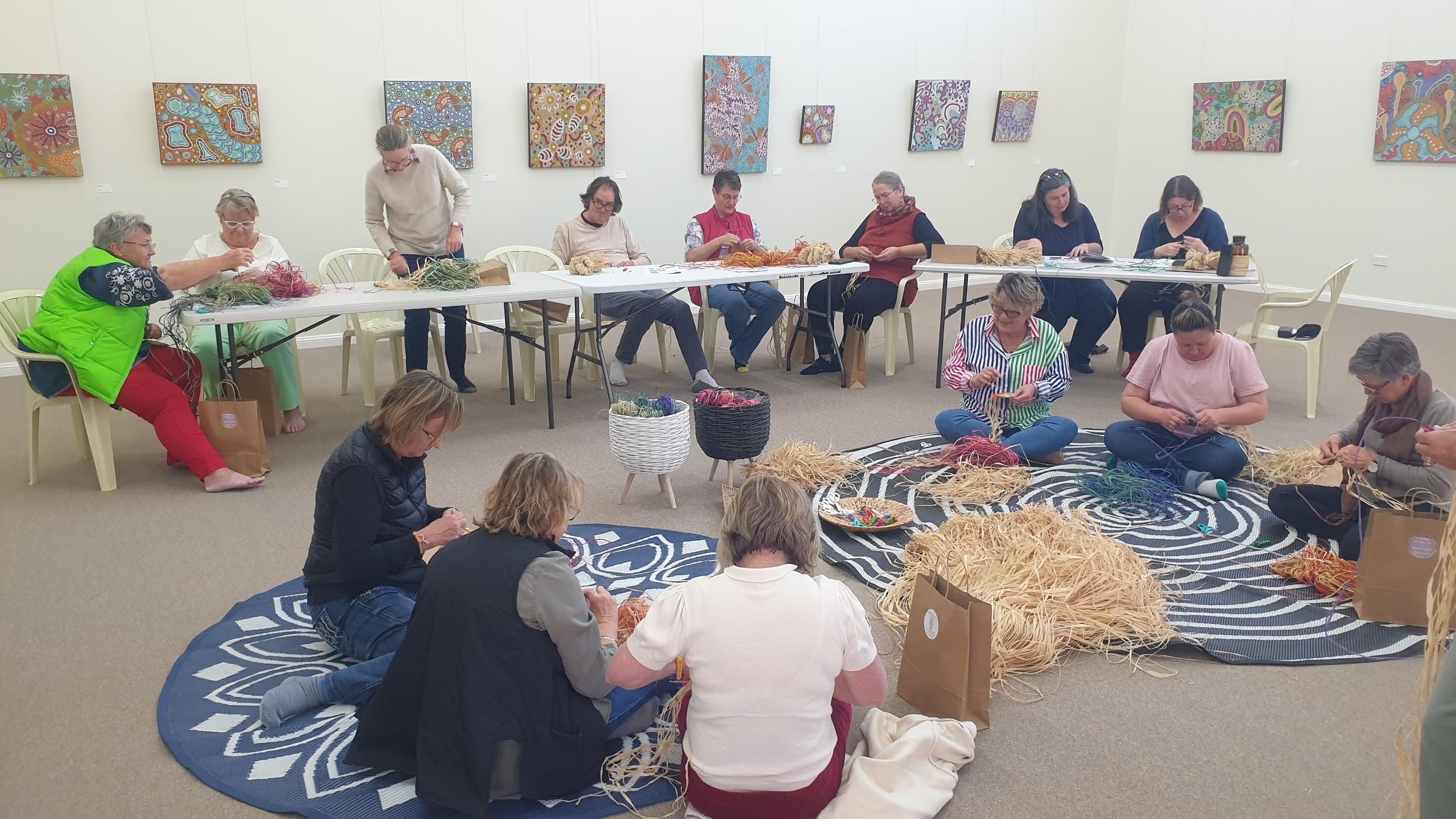 September 2023 Exhibition
Opening September 10th, 12 pm to 5 pm
Featuring artists Anni Washington, Simon Munro, Raffaella Picotti and Tyalor Gardner.
If you appreciate Beauty and artistic skill and enjoy Art, then this is the show for you. Anni Washington, Simon Munro, Rafaella Picotti and Taylor Gardner will delight you with the beauty of their subject matter and their perspectives on the world.


Anni Washington has been an artist for over 39 years. For most of that time she has painted in watercolour but to paint 'really big' she moved into acrylic which she has successfully adapted and interpreted to achieve the light and colour she desired in her landscapes. Her use of hardboard as a canvas extends the texture of the work and creates its own background that doesn't impose on, but subtly enhances the painting. Anni's landscapes range from peaceful, nearly idyllic views of colourful rolling hills and blue skies, always identifiable as Australian, through serene and beautiful gum trees and onto the aftermath of fire. The agony of the grotesque, tree skeletons evoke sympathy in the viewer who may respond to the effect of fire on vegetation.


Simon Munro is not a newcomer to Ceramic Break Sculpture Park having exhibited both sculptures and paintings in our Myall Creek exhibition in June of this year. 'Finding Identity' draws on his duality of heritage, maternal Scandinavian and paternal Anaiwan. Simon is undertaking PhD studies which include research into where his Australian ancestors lived. Through his acrylic paintings which exquisitely depict their landscape by sharing with us the topographical Beauty of where they lived and his sculptures which reference their artifacts that were skillfully comprised mostly of wood and stone, he extends our understanding and knowledge of the early inhabitants of this area of NSW.


Rafaella Picotti has also exhibited at Ceramic Break before. Her work shows an affectionate interpretation of the animals she depicts. Her paintings are so accurate and with so much detail that the animals ask to be stroked. Squirrels and cats are among her choice of subject matter and she hopes the intensity of their illustration will remind us of the connection between humans and nature. Rafaella's work would be a delight on any wall.


Taylor Gardner is a young and emerging artist determined to explore and capture the 'beauty surrounding the feminine essence'. She intentionally makes use of strong colours and symbols of 'water, plants, flowers and butterflies' to explore personal growth and control. We do not see the eyes of her vine covered girl, who maybe because of the lack of the intense blue eyes included in other pieces, projects a love of life and some serenity. The work that is half full of dark clouds and a taut necked female with her hand at her throat is darkly moody.






Lunch and refreshments provided.

Entry by gold coin donation.

Bring your own utensils to enter the "The Green Raffle" to a win a beautiful plant and a beautiful planet.



-----------------

Ceramic Break Sculpture Park is currently housing a diverse arrangement of artists from across the state.

Some of these artists are extremely successful in their own right having shown and sold work in many Galleries over the years.