Current Exhibitions and Events
Ladies of the Land ....
Eclectic works by 3 indigenous artists

Opened Sunday, June 11th and continues through July
Another of those days!!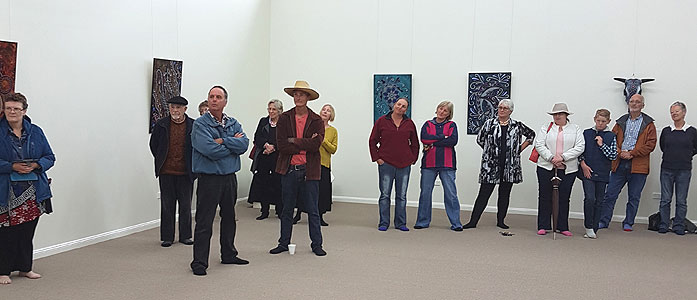 Guest on opening night
The photos say it all. Ceramic Break's opening 'Ladies of the Land' in support of the Myall Creek Memorial was magnificent. The Art was delightful and the talk by Karen Fletcher and Tracey Cattana, two of the exhibiting artists, gave insights into their artistic choices to the discerning audience. Although the weather was somewhat dismal the intrepid souls who walked the walk were definitely impressed by everything. Thanks to Apex and particularly to Lachlan who prepared and delivered the delectable lunch.




Exhibiting Artists Tracey Cattana, Karen Fletcher and Brian



Karen talking to Kerry in front of Mannequin and Tracey in front of her artwork




Kerry and The Tiger Club





Karen Fletcher – Sunburnt Country of the Outback and Land,
acrylic on canvas, 60 x 90 cm



Tamworth artist Tracey Cattana has recently decided to delve in the new medium of digital drawing. The results are stunning! "It allows you to draw as naturally as pen to paper and get your style going organically."

Karen Fletcher paints in acrylics and thrives on experimentation, she incorporates reclaimed objects she finds on her "treasure hunts" into her art work. "I receive a vision in my dreams about my next piece and I feel an overwhelming drive to turn that vision into reality".





Tracey Cattana – Vincent and the Poplar, digital mono print, A4.

| | |
| --- | --- |
| Tanya Taylor – Red Roos, acrylic on canvas, 30 x 90 cm. | Tanya Taylor was raised in traditional indigenous ways, living on bush tucker until she was 27 years old. Her father was a traditional hunter and taught Tanya how to embrace her heritage. Tanya honours her father's knowledge in her painted wood carvings and paintings. |
-----------------
Ceramic Break Sculpture Park is currently housing a diverse arrangement of artists from across the state.
Some of these artists are extremely successful in their own right having shown and sold work in many Galleries over the years.